Vitamin B12 helps your body in many ways– it is one of the most crucial nutrients for survival, as it helps to maintain your nervous system, build healthy red blood cells, and sustain energy needed for day-to-day life.
Unfortunately, many Americans don't get nearly enough vitamin B12 from diet or daily supplements, as there are many health conditions that interfere with vitamin B12 absorption.
Vitamin B12 helps you function
It's true- you cannot survive without healthy, constantly replenishing supplies of vitamin B12 cobalamin. This super-power is needed for just about every aspect of day-to-day functioning.
Vitamin B12 is the ultimate brain vitamin
Vitamin B12 promotes production of myelin, which coats your individual nerve cells and protects them from harm while also enhancing intercellular communication for quick reflexes.
Vitamin B12 helps to maintain normal, healthy cognitive functioning, including good memory, organizational skills, and emotional wellbeing.
Vitamin B12 helps your body convert carbohydrates into usable energy, which in turn helps to prevent fatigue and boost mental clarity.
Vitamin B12 helps to minimize homocysteine, a hormone frequently connected with early aging and dementia such as Alzheimer's disease.
Vitamin B12 prevents pernicious anemia
Vitamin B12 anemia, aka pernicious anemia (PA), is one of the most preventable yet widespread forms of nutritional deficiency in the US.
Vitamin B12 is needed to regulate the production of hemoglobin-toting red blood cells needed to deliver oxygen to your brain and the many organs of your body. Without sufficient vitamin B12, you run the risk for PA, a form of megaloblastic anemia that results from abnormally large, misshapen red blood cells that cannot function properly.  With time, the ratio of normal, healthy red blood cells to distorted, oversized cells dips to a dangerous low, and you begin the suffer the effects of low oxygen.
Signs of low oxygen include constant fatigue, dizziness, brain fog, confusion, and memory problems.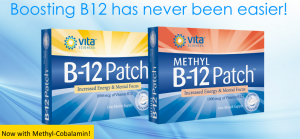 Get the Vitamin B12 Patch! Now in Methyl and non-Methyl.  Buy now.
In addition to decreased oxygen, pernicious anemia causes symptoms resulting from peripheral neuropathy (nerve damage), including:
muscle spasms
painful tingling and numbness in the hands and feet
muscle weakness
difficulty walking
vision problems
poor reflexes
Vitamin B12 is good for the heart
In countless studies, vitamin B12 supplementation correlates with healthy levels of homocysteine, a protein that in elevated amounts is associated with increased risk for heart disease and stroke. By constantly digesting homocysteine and keeping levels down, vitamin B12 helps to promote excellent cardiovascular health.
Vitamin B12 aids metabolism
Vitamin B12 is a favorite for athletes and anybody following a weight-loss regimen; it promotes DNA synthesis- it ensures normal cell growth and protects the cell membranes. Vitamin B12 also helps your body convert carbohydrates (such as glucose) and fats into pure energy, which in turn boosts stamina needed for sports endurance and overall mental well-being.
How have you benefited from supplementing with vitamin B12?
Are you happy with your current regimentation of vitamin B12 pills or shots?
Please share your comments below.