Are you one of the 85 million Americans with high blood pressure? If so, it is important to know what you can do to control your blood pressure and prevent heart disease.  In many cases, there are not any obvious symptoms of high blood pressure.  Therefore, it is important to keep track of your numbers and visit your doctor regularly to control your blood pressure.
If you want to control your blood pressure today, follow these three steps to get started on your heart healthy journey.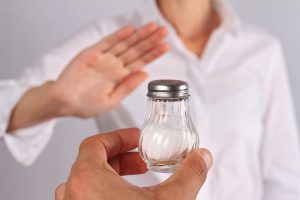 1.) Lower your sodium intake.  A recent study of the U.S. National Health and Nutrition Examination Survey looked at salt intake and high blood pressure, also known as hypertension.  Between 1999 and 2012, the sodium intake of those with hypertension rose nearly 14-percent from 2900 to 3350 milligrams daily.  The recommended sodium intake for those with hypertension is 1500 milligrams a day, while those without hypertension should limit intake to 2300 milligrams daily.  It is important to note that that 2300 milligrams of sodium is equal to just one teaspoon of salt.  Furthermore, reports show that three-fourths of the sodium most people consume daily is not from added salt.  Instead, most excess sodium intake is from consuming processed food products. Therefore, it is important to limit prepackaged foods such as:
chips
crackers
canned soups
boxed meals
deli meats, sausages, and hot dogs
take-out food
These convenience foods contain high levels of sodium-based preservatives that make them shelf stable. Therefore, stick to consuming mostly fresh, whole foods such as lean meats, fiber-rich fruits and veggies, and whole grains to maintain healthy levels of daily sodium.
2.) Stay active every day. According to the American Heart Association, at least 40 minutes of exercise each day, 3-4 days a week can help control blood pressure. A recent study in the journal Hypertension looked at the link between exercise and risk of high blood pressure in African Americans.  High blood pressure risk was nearly one-fourth lower in those who exercised at least 150 minutes a week versus non-exercisers. However, it is important to note that the exercise found to be most beneficial was done in bouts of at least ten minutes.
3.) Take your medicine and supplements daily.
Be sure to take any prescribed medicines as suggested by your healthcare provider.  This is because for some people, diet and exercise may not be enough to maintain blood pressure at a healthy level.  In addition, there are some supplements that may be able to help support healthy blood pressure levels. One of these supplements is Presura by Vita Sciences.  Presura contains niacin, which is found to dilate blood vessels, improve blood flow, and in turn lower blood pressure levels. Therefore, visit Vita Sciences to find supplements that can help support your heart healthy lifestyle today.
For more information on how to control your blood pressure, visit the American Heart Association website or Medline Plus for the latest research findings.
-Staci Gulbin, MS, MEd, RD, LDN
Sources:
American Heart Association (2017 March 10) "The Facts about High Blood Pressure" https://www.heart.org/HEARTORG/Conditions/HighBloodPressure/GettheFactsAboutHighBloodPressure/The-Facts-About-High-Blood-Pressure_UCM_002050_Article.jsp
American Heart Association (2016 December 13) "Five Simple Steps to Control Your Blood Pressure" https://www.heart.org/HEARTORG/Conditions/HighBloodPressure/GettheFactsAboutHighBloodPressure/Five-Simple-Steps-to-Control-Your-Blood-Pressure_UCM_301806_Article.jsp
Medline Plus (2017 March 8) "Americans with High Blood Pressure Still Eating Too Much Salt." https://medlineplus.gov/news/fullstory_163977.html
U.S. News World Report (2017 January 30) "Exercise May Help Black Americans Lower Blood Pressure Risk" http://health.usnews.com/health-care/articles/2017-01-30/exercise-may-help-black-americans-lower-blood-pressure-risk