While there is no 100% cure for migraines, a neurological illness, doctors agree on certain natural ingredients that help migraine headache sufferers reach their optimal level of nervous system functionality. The following herbs, vitamins, and minerals have been the focus of the most studies, and are highly recommended by natural migraine treatment physicians.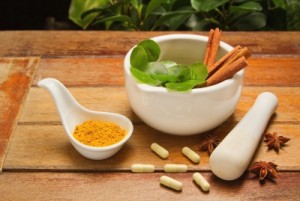 Please note that many natural supplements have powerful properties that can rival those of prescription medications. Please consult your doctor before taking any new treatment for migraine disorder.
Natural ingredients that help migraine
Here are some natural ingredients that are most often cited as beneficial for migraine headaches, nausea, stress, and other forms of chronic pain.
1- Butterbur (Petasites hybridus)
Butterbur root extracts have been featured in numerous scientific studies on natural migraine prophylaxis. Scientists noted optimal results when migraine sufferers used 75mg of safe, natural butterbur supplements each day for at least three months. Test subjects who also suffered from severe asthma and muscle spasms reported good health after taking butterbur daily. Note: Read the label when purchasing butterbur capsules- only use extracts free of pyrrolizidine alkaloids (PA's), which can have a toxic side effect. Look for "PA-free" on the label.
2- Coenzyme Q10
Coenzyme Q10 is an antioxidant that aids migraine patients by supporting healthy blood flow to the brain, sustaining good circulation, regulating blood-sugar levels, and promoting normal cellular metabolism. Doctors recommend 60mg-100mg of coenzyme Q10 daily for best results.
3- Riboflavin (Vitamin B2)
Practitioners of CAM (complementary alternative medicine) recommend taking 400mg of riboflavin each day for at least three months. Riboflavin helps to sustain ideal cellular metabolism, while also controlling the effect of oxidative damage that can occur with chronic migraines.
4- Magnesium
Magnesium deficiency is a common trigger of chronic migraines, so experimenting with at least 200mg of magnesium each day is a good way to eliminate that as a cause of your migraines. Most patients do not need to exceed 1,000mg doses of magnesium, which is also naturally helpful for neurological functioning. Some migraine patients suffer from magnesium deficiency, a common trigger of migraine attacks. Health experts recommend beginning with 200mg of magnesium per day, to be increased to 1,000mg if needed. Magnesium helps to sustain health neurological functioning.
5- 5-hydroxytryptophan (5-HTP)
5-HTP is helpful for serotonin management. Doctors suggest 5-HTP as a natural ingredient for migraine headaches caused by vascular disorders resulting from low serotonin.
6- Coffee
Coffee can sometimes trigger migraines, but for many other migraine patients, a caffeinated drink can actually provide relief.
7- Valerian
Valerian is helpful for reducing stress that triggers migraine attacks.
8- Peppermint
If your migraine attacks occur with gut-wrenching nausea and cramps, then try chewing on a raw peppermint leaf. Or, sip a cup of healing tea seeped with peppermint.
9- Cayenne
Topical pain creams containing cayenne are helpful for neck stiffness, back pain, and sore joints that occur with migraine.
10- Kava
Kava contains therapeutic phytochemicals that promote relaxation in the nerves and muscles.
Can you add to our list? Can you recommend any other great natural ingredients that help migraine headaches? Please list below.
Image by Praisaeng