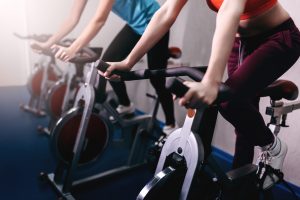 Any kind of movement is good for health. Studies have shown time and again that sitting is bad for health. But, is one kind of exercise better than the other when it comes to weight loss? This is a controversial topic since some studies show that strength training can keep calories burning long after your workout. However, a recent study has shown that cardio exercise may actually be better than strength training in boosting metabolism.
Cardio exercise versus strength training
Cardio exercise, or aerobic activity, is a type of exercise that gets your heart rate up. It gets you to breathe faster and deeper, in turn getting more oxygen in your blood. Cardio exercise is best known for improving the overall health of your heart and lungs. Experts recommend that you engage in some cardio exercise for at least 30 minutes a day for most days of the week.
Types of cardio exercises include walking, running, cycling, swimming, team sports, and dancing, to name a few. Cardio exercises are known for burning more calories per minute than strength training and is also great for stress management. Not to mention that cardio training can help reduce risk of chronic diseases like heart disease and diabetes.
On the other hand, strength training exercises aim to increase your bone and muscle strength. Examples of such exercises include free weight exercises or resistance training like push-ups, to name a few.
Research has found that strength training can help you burn an additional 25-percent of calories you burned during your workout even after you have finished your workout. Therefore, if you burn 100 calories during your strength training workout, then you will burn an additional 25 calories in the hours after your workout for a total of 125 calories burned.
Typically, it is recommended to balance out your fitness routine with both cardio and strength training exercises. This will ensure you can reap the benefits of both types of exercises.
Cardio for faster metabolism
Recent research looked at the effects of cardio and strength training exercises on certain health markers. Two groups of people had either a 60-minute cardio or 60-minute strength training workout to complete. After the workout, their blood was tested for lactic acid, blood sugar, bile, and hormone levels.  Study results show that those who did the cardio exercise had higher levels of the hormone FGF21. This hormone plays a role in boosting metabolism. Those who did the cardio workout had tripled their FGF21 level from baseline, while those who did strength training saw no increase.
Other ways to boost metabolism
Besides boosting your cardio routine, there are other small changes you can make to your lifestyle to speed up your metabolism.
Spice up your diet: Research shows that capsaicin, the active  component of chili peppers, can increase calorie burning by 50 calories a day.
Take a metabolism boosting supplement:  Sometimes a supplement that supports the thyroid may help boost metabolism. An example of this is Thyradol by Vita Sciences. Thyradol contains ashwagandha that helps enhance levels of the thyroid hormone T4. You should contact your healthcare provider before starting any new supplement.
Eat more harder to digest foods: Foods that are more complex in their structure can help the body burn more calories during digestion. This is called diet-induced thermogenesis.  Foods higher in fiber and protein are examples of such foods. Foods that are more refined, like processed carbohydrates, will not have this same effect. Therefore, aim for eating lots of complex carbohydrates like high fiber fruits and vegetables that have a 20-percent thermic effect.  This means that for every 100 calories of these foods you eat, your body will use 20 calories to break down and digest these foods. Aim for at least 2 cups of fruits and vegetables each day. Also, be sure to consume plenty of protein from animal and/or plant-based sources., which have a 30-percent thermic effect.
-written by Staci Gulbin, MS, MEd, RD, LDN
References:
Healthline (accessed August 29, 2018) "Metabolism Boosters: Weight Loss Fact or Fiction?"
Mayo Clinic (August 10, 2017) "Fitness training: elements of a well-rounded routine." 
Petter, O. (August 25, 2018) "Cardio Boosts Metabolism More Than Strength Training , Study Claims." 
Plosser, L. (accessed August 29, 2018) "Cardio vs. Strength Training: Which One is Most Effective?"
Williams, J. (October 3, 2017) "How Many Calories Does Digestion Use Up?"