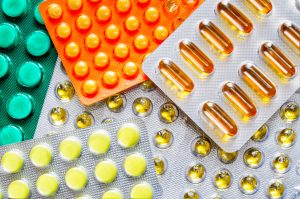 When you take a medicine over the counter, you likely focus mostly on the  benefits it can provide you.  However, it's possible to experience some harmful health effects from use of over-the-counter medicines.  A recent study has found that some common painkillers used by those with arthritis may cause high blood pressure.
What is arthritis?
Arthritis is the inflammation of the tissue lining the joints. It can cause pain, redness, and swelling as well as joint damage, if not treated.  These symptoms can arise due to the rubbing of bone to bone together when the tissue lining the joints is worn down.The two most common types of arthritis are osteoarthritis and rheumatoid arthritis (RA). Osteoarthritis affects mostly the fingers, knees, and hips, while RA is an autoimmune disorder that affects hands, feet, as well as internal systems. Many people with arthritis find relief with common pain medicines such as non-steroidal anti-inflammatory drugs (NSAIDs).
NSAIDs, help to decrease pain by blocking the production of body chemicals that cause inflammation and swelling. Some side effects of taking NSAIDs can include nausea, vomiting, diarrhea, gas, and bloating. However, in some people, long-term use of NSAIDs can also cause high blood pressure.
High blood pressure occurs when the systolic pressure of the contraction is around 140 or higher and the diastolic pressure, or the pressure in between heart beats, is above 90. A study in the European Heart Journal looked at over 400 patients with arthritis.  Study subjects were given either the prescription pain reliever Celebrex, the NSAIDS naproxen or ibuprofen, or placebo.  With the use of NSAIDs, both systolic and diastolic pressure were increased.
Other ways to reduce arthritis pain
Keep your weight down since extra weight can place unnecessary pressure on your joints. Losing weight through diet and exercise can release some of this pressure and prevent damage to joints that may occur with prolonged pressure.
Exercise can reduce joint pain caused by arthritis. Low-impact exercises such as walking and water aerobics can aid in such pain relief.
See your doctor regularly. Your healthcare provider can adjust medications or supplements as necessary to help reduce any symptoms you may have.
Use pain-reducing supplements such as Flexova by Vita Sciences. Flexova contains powerful ingredients such as glucosamine and chondroitin, which can help support joint flexibility and ease of movement.
-written by Staci Gulbin, MS, MEd, RD, LDN
Sources:
Cleveland Clinic (2016) "Non-Steroidal Anti-Inflammatory Drugs (NSAIDs)" https://my.clevelandclinic.org/health/articles/non-steroidal-anti-inflammatory-medicines-nsaids
Dallas, M.E. (August 30, 2017) "Common Painkillers May Boost Blood Pressure in Arthritis Patients" https://medlineplus.gov/news/fullstory_168117.html
National Institute of Arthritis and Musculoskeletal and Skin Diseases (April 2017) "Living With Arthritis: Health Information Basics for You and Your Family" https://www.niams.nih.gov/health_info/arthritis/default.asp