Even after thousands of years since its development, meditation is still used as a way to develop the mind and evolve spiritually.  However, even though the term "meditation" may provoke thoughts of religious context, the exercise itself simply involves a specific, comfortable posture, a focus of attention, and an open attitude. Specifically, this may involve repetition of affirmations, relaxation breathing, and clearing your mind of extraneous thought.  According to the National Institutes of Health, meditation holds significant health benefits.  In particular, research has shown the exercise to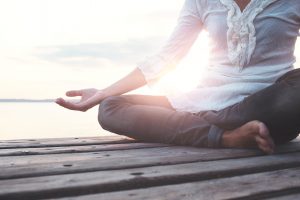 benefit those with anxiety, depression, insomnia, and even irritable bowel syndrome. Furthermore, in those with anxiety, meditation helps diffuse worries by improving focus on the present-day.
A recent study in the journal Consciousness and Cognition looked at a group of 82 people with anxiety. Subjects were asked to perform a computer task and were interrupted frequently to test their focus.  Next, subjects were divided into a meditation group and an audio story group.  Results show that those who meditated had greater focus in the second half of the study then those who listened to the audio story.
Therefore, it is safe to say that meditation exercises show promise for helping those with anxiety.  Researchers of the study state that mind wandering account for nearly half of a person's consciousness. Furthermore, when those with anxiety wander off into repetitive off-focus thought, they may have trouble learning, completing tasks, or functioning safely. However, the National Institutes of Health want to remind you that meditation should not replace primary conventional care of health conditions.
What Are Other Ways to Help Reduce Anxiety?
Besides meditation, there are various ways you can help reduce anxiety:
Visit your healthcare provider for counseling or medication treatment
Exercise on a regular basis for at least 30 minutes a day; low impact exercises such as walking will do the job.
Schedule "me-time" every day engaging in an activity yo love to do such as reading, painting, watching a movie, or cooking; do something that relaxes your mind.
Delegate tasks on your to-do list; get others to help with some tasks or schedule some things for another day.
Stay connected with a support system through family, friends, coworkers, or community and religious organizations.
Use essential oils such as frankincense and lavender to provide a calming scent when practicing relaxation breathing. You can either place oils in a diffuser, or dab on wrists and neck for a more concentrated scent.
Drink herbal teas such as peppermint to calm digestion or chamomile to help soothe the mind and promote sleep.
Try a supplement such as Sereneo by Vita Sciences. Sereneo contains natural ingredients such as magnesium, chamomile, and valerian that have been shown to promote a boost in "feel-good" serotonin, relieve anxiety, and calm mind and body.
Also,  visit websites such as the Anxiety and Depression Association of America for more information on anxiety, treatment options, and ways you can support anxiety research.  

-written by Staci Gulbin, MS, MEd, RD, LDN
Sources:
Dallas, M.E. (May 5, 2017) "Meditation Can Help Improve Focus in People With Anxiety" https://medlineplus.gov/news/fullstory_165274.html
National Center for Complementary and Integrative Health (updated March 17, 2017) "Meditation: In Depth" https://nccih.nih.gov/health/meditation/overview.htm
National Institute of Mental Health (accessed May 10, 2017) "5 Things You Should Know About Stress" https://www.nimh.nih.gov/health/publications/stress/index.shtml
Puff, Ph.D., R. (July 7, 2013) "An Overview of Meditation: Its Origins and Traditions" https://www.psychologytoday.com/blog/meditation-modern-life/201307/overview-meditation-its-origins-and-traditions