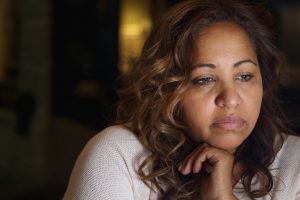 You may feel depressed if you have a bad day or an upsetting situation. However, depression is more than just an isolated feeling. For those with depression, daily living can be difficult or nearly impossible.  Depression causes disruption in daily living such as with working, sleeping, eating, and the way you think and feel for at least two weeks. These symptoms include:
persistent sad, anxious, or feelings of emptiness
decreased energy, loss of appetite or weight changes
loss of interest in things you once enjoyed doing
irritability
thoughts of death or suicide
difficulty concentrating or sleeping
aches, pains, or digestive problems with no clear physical cause
What causes depression?
Family history of the condition, major life changes, and stress or trauma can all lead to depression. Also, certain medicines and illnesses may also lead to depressive symptoms.  Furthermore, vitamin deficiencies can also contribute to some cases of depression.
Depression has been linked with certain vitamin deficiencies according to a 2013 review in Current Psychiatry.  Depression, irritability, and agitation has been found to develop as a result of vitamin B12 deficiency.  Geriatric patients with low B6 levels had increased risk and severity of depression. Furthermore, marginal levels of vitamin B2 were found more frequently in depressed patients than non-depressed patients.
What does the research say?
First of all, a 2016 study in the Frontiers in Behavioral Neuroscience looked at the effects of vitamin intake on mild cognitive impairment. The study reported decreased risk of mild cognitive impairment in the Chinese elderly due to intake of carotenoids, vitamin C, and vitamin B6. Another 2016 study in the Journal of the Association of Nurses in AIDS care looked at vitamin intake effects on mental health outcomes.  HIV patients had decreased risk of anxiety and depression due to daily dietary intake of zinc, selenium, and vitamin C.   Finally, a 2015 study in the Pakistan Journal of Biological Sciences looked at anxiety and vitamin C intake.  Students had decreased anxiety levels due to increased intake of vitamin C.
Sereneo can provide all of the vitamins and compounds you need to boost your mood.  As a result of vitamin C and B vitamins, Sereneo works to support anxiety relief and calm your mind.
Finally, a special thank you to the Hope for Depression Research Foundation.  They work hard every day to raise mental health awareness and to fund related research. Because of this, be sure to visit their site at hopefordepression.org on how you can support their cause.
-by Staci Gulbin, MS, MEd, RD, LDN
Sources:
de Oliveira, IJ, et al. (2015 Jan) "Effects of Oral Vitamin C Supplementation on Anxiety in Students: A Double-Blind, Randomized, Placebo-Controlled Trial." Pakistan Journal of Biological Sciences, 18(1):11-8.
Jamali, F., et al (2016 Nov-Dec) "Correlation Between Daily Dietary Micronutrients Intake and Mental Health Outcomes in Iranians Living With HIV infection, " Journal of the Association of Nurses in AIDS care, 27(6): 817-825.
Lu, Y, et al (2016 Nov 29) "Dietary Intake of Nutrients and Lifestyle Affect the Risk of Mild Cognitive Impairment in the Chinese Elderly Population: A Cross-Sectional Study," Frontiers in Behavioral Neuroscience, 10:229. eCollection 2016.
National Institute of Mental Health (accessed 2017 Jan) "Depression" https://www.nimh.nih.gov/health/topics/depression/index.shtml
Ramsey, MD, Drew. (2013 January) "Vitamin Deficiencies and Mental Health: How are they linked?" Current Psychiatry, 12(1):37-44.